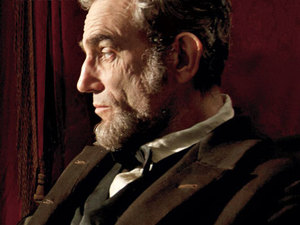 HOLLYWOOD - Daniel Day Lewis has only just finished work on his role as Abraham Lincoln in Steven Spielberg's long awaited biopic of America's most famous President, but now he has taken on a greater challenge, starring in a biopic of Shia LaBeouf, currently titled Shia.
"Shia LaBeouf is without doubt the actor of our generation," says Ron Howard, former Happy Days actor and the director of the forthcoming film. "And who better to play him than the second best."
The Dayster (as he's known in Thespian circles) has become legendary for the extent of his preparation. When he starred in My Left Foot as paraplegic author Christy Brown, the There Will Be Blood star spent the whole shoot in a wheel chair, writing novels and refusing to answer to the name 'the Dayster'. Likewise to prepare for his role as Hawkeye in Last of the Mohicans, Day Lewis spent three months underneath a waterfall shouting hoarsely at Madeline Stowe. This role might prove however to be his toughest challenge yet.


Day Lewis
Already the physical transformation has begun to take place, and the first shot of him (right) as the Disturbia and Transformers star shows an utterly transformed and strangely younger looking man.
"A shave and a haircut and we'll be there," quips an ebullient Howard.
When asked for a comment, the normally reluctant In the Name of the Father actor was quietly forthcoming. "I've studied Shia for years," says Day Lewis, his eyes fixed on the ground. "This is the man who rescued the Indiana Jones franchise you must remember. So when Ron called and said he had a challenge for me, I knew he wasn't kidding."
Shia starts shooting in January and will be due out sometime in early 2014.
Daniel Day Lewis Preparations in Full:
For My Beautiful Laundrette DDL bought a laundrette. "It was pretty, sure but it wasn't beautiful," said a disgruntled Stephen Frears. It was a lesson in perfectionism from the director of Tamara Drewe.
Preparing to play Daniel Plainview, in There Will Be Blood DDL changed his first name to match his character.
For Lincoln, Steven Spielberg described how the actor prepared for the famous assassination scene, by being shot in the back of the head every morning for two weeks. "Something to do with muscle memory," the 1941 director remarked wonderingly.
To prepare for Nine, the chameleon actor "did nothing at all."
While shooting Gangs of New York, Scorsese noted how "Daniel would use every opportunity to talk to Cameron. It was touching really. He sat and studied her and learned from her. I think he was a better actor for it."
Shia will be released in 2015.